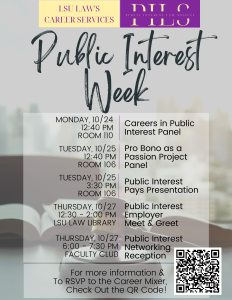 We are proud to announce that PILS and LSU Law's Career Services are hosting PILS/Public Interest Week from October 24 – 27. For PILS Week, we are hosting a week of presentations and events where legal speakers and panelists during the week to talk about their work in public interest.
Below are important links & a schedule of some of the exciting events we have planned!
RSVP to Public Interest Networking Reception: RSVP now to secure your spot today! Link to Networking Reception RSVP here.
Exciting events we have planned: