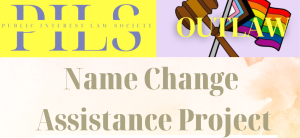 Congratulations to Chrissie Davidson, recipient of the 2023 Judge Ginger Berrigan Award, for her incredible work leading the Name Change Assistance Project.
Partnering with Louisiana Trans Advocates (LTA), PILS and OUTLaw are excited to announce a new pro bono opportunity for students to assist trans or gender non-conforming petitioners as they navigate the legal process of officially changing their names. Students will work with a supervising attorney to assist petitioners as they go through the legal process of officially changing their names from their legal name assigned at birth to their chosen name.
Unfamiliar with what a deadname is and why it is harmful to trans and gender non-conforming people? Check out this article for a brief overview: "What Is Deadnaming and Why Is It Harmful?" (VeryWell Mind). 
Students interested in participating in this pro bono opportunity must:
Fill in the Student Interest Form,
Go through a training program &
Agree to the PILS Pro Bono Contract.
This is important to prevent the student from conducting any unauthorized practice of law or misleading or providing erroneous information, and to learn how to deal with any adverse political issues that may arise.
If interested, please email the Pro Bono Vice Chair, Kay Davis, at krawls7@lsu.edu or the OUTLaw President, Chrissie Davidson, at cdav165@lsu.edu.