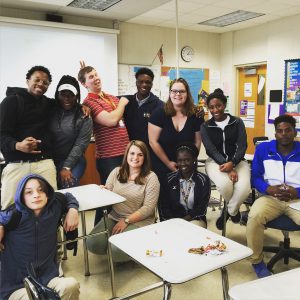 Street Law, Inc. is a nonprofit organization dedicated to providing practical, participatory education about law, democracy, and human rights.  Through its philosophy and programs, people are empowered to transform democratic ideals into citizen action.
The Youth Act!® program includes curriculum, training, and practical assistance to help young people develop the leadership and vision to advocate for meaningful change in their communities.  Typically delivered through community-based youth programs or infused into social studies, civics and health classes, this program harnesses diverse learning styles and abilities laying the foundation for young citizens to make a difference throughout their lives.
This program allows LSU Law Students to go into area schools, and teach young students about the importance of leadership and becoming a source of positive change in their community.
No teaching background? No problem! All lesson plans will be premade for you, and we will work to prepare you ahead of time.
**Also, as we are in the rebuilding stage of our Street Law program, we are open to suggestions for new teaching sites. If you know of a local teacher who would be worth reaching out to for hosting us in their classroom, please email Meg.
Please email Education/Youth Outreach Chair Meg Bertrand for more information at mbert18@lsu.edu