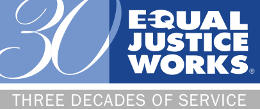 The Equal Justice Works Conference and Career Fair is the largest national public interest legal career fair in the country. More than 165 public interest employers conduct interviews for internships and full-time jobs and meet with students in informal "table talk" discussions of public interest legal opportunities. Over 1,200 students from nearly 150 law schools attend for interviews, workshops on public interest careers, networking, resume review, mock interviews, and more.
The 2020 conference will be on October 22-24, 2020. Due to covid-19 the Conference and Career Fair will be a three-day digital event this year.
Some key dates to keep in mind:
August 14                 Student & Recent Graduate Registration Opens
September 18           Deadline to Apply for Pre-Scheduled Interviews
September 18-29      Employer Application Review & Interview Selections
September 30           Pre-Scheduled Interview Sign-Up Begins
 Visit the Equal Justice Works Conference website for more information: https://www.equaljusticeworks.org/conference-and-career-fair/about/
These opportunities are for both 2Ls and graduating 3Ls. Although 1Ls may not apply and interview for jobs, they are encouraged to attend for networking, table talk, and attend seminars and speakers.
For more information, contact PILS Fellowship Chair Jarrod Easterling (see officers tab under contact us).