MARK YOUR CALENDARS FOR OCTOBER 24-27!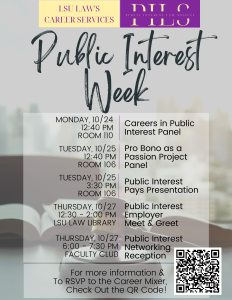 We are proud to announce that PILS and LSU Law's Career Services are hosting the 2022 Public Interest Career Week. Additional information and sign up information is below! Take a look at some of the exciting events we have planned:
For more information, please check out our Public Interest Career Week Webpage here. If you have any questions or concerns, please reach out to our PILS Careers Chair, Karleigh Gwyn, at kgwyn3@lsu.edu.