Professor Olivier Moréteau: Bonjour Noémie, thank you for visiting LSU Law where you joined us as an LL.M. candidate in 2018-2019, graduating in May 2019. Tell us what you have accomplished in the meantime.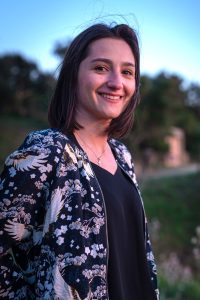 Noémie Le Colleter: After graduating, I took advantage of the academic training program under the J1 visa, which allows you to stay in the US for employment for up to 18 months. I was hired by a capital defense law firm in Baton Rouge. For a year and a half, I assisted attorneys with the litigation of death penalty cases in Louisiana trial courts, which is with no doubt the most impactful experience I've had so far.
After moving back to France, I took the New York bar exam and was admitted as an attorney in October 2021.
Wanting to finish my legal education in France, I pursued a Master's degree in Human Rights at Université Grenoble Alpes with the intention of working for an international organization or NGO.
I had the chance to be selected for an internship with the United Nations Office on Drugs and Crime to work on combatting human trafficking and migrant smuggling issues, and after with the Organization for Security and Co-operation in Europe (OSCE) Office of the Special Representative and Coordinator for Combating Trafficking in Human Beings. I am hoping to continue working on human rights and criminal justice issues at the international level.
OM: Did the LL.M. help you in any of these great ventures?
NLC: I am convinced that the LL.M. and the doors it has opened for me after graduation played a big part in where I am now. As an LL.M. student, I had the opportunity to intern with the Public Defender's office in Baton Rouge during my second semester, and to take several classes related to criminal law and criminal justice, including on capital punishment. Those were of a great help when I started working on capital cases. While I'm not practicing law at the moment, there are many skills I gained thanks to the LL.M. that prove useful every day from being able to analyze cases and pieces of legislation, and adapting to different legal systems, to skills like organization and handling a heavy workload.
OM: Is there a particular memory that you would like to share?
NLC: Prior to studying at LSU, I never visited the Southern United States. I cherish many memories from my time in Louisiana, from meeting new friends, exchanging with great Professors, and enjoying Louisiana food and culture. Mardi Gras is an experience not to be missed! But coming to the LL.M. program, I remember the trip to to New Orleans during Orientation, to visit the Supreme Court of Louisiana with Professor Moréteau. There, we were given a tour of the courthouse and the library, where I could hold in my hands the original edition of the French Code Civil, an experience I never had in France!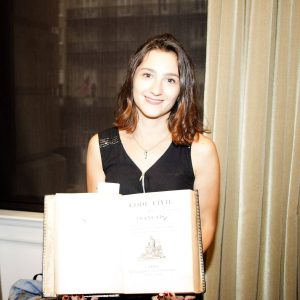 OM: Do you have a message or advice to prospective candidates who may hesitate to apply?
NLC: The LL.M. at LSU is a small program compared to other law schools, which allows for students to bond relatively quickly. The sense of solidarity I developed with other LL.M. students made a great difference in my overall experience. The LL.M. program at LSU Law offers great opportunities that candidates may not think of. If you are interested in gaining experience in legal practice, you can combine classes with a part time internship or participate in one of the legal clinics offered. Just like me, you can also decide to stay after graduating for a substantial professional experience. The LL.M. prepares you really well for the New York Bar Exam while making room for classes you are really interested in. The agreement LSU has with Université Grenoble Alpes (my home university) helped tremendously and I am ever so grateful for the opportunity to study at LSU Law.