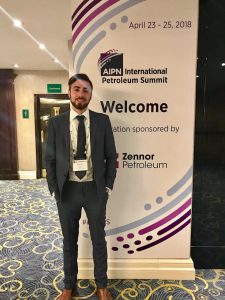 Professor Moréteau,
Wow, what can I say about studying abroad at Trinity College in Dublin, Ireland!
This experience has been the best thing I could have ever done academically and personally. I have had the opportunity to meet people from all corners of the world, some of who are now lifelong friends. Academically, I was challenged to learn and perform at the next level considering my fellow classmates are some of the top minds in Ireland and other top-ranked universities. Trinity College is a school that focuses on academic writing as an assessment, which gave me the opportunity to drastically improve in this area and I did! In addition, I was able to join a group project that worked on a cross-border financial transaction case study with universities in Spain and Italy.
Further, I had several opportunities to advance my future career path in ways that would not have been possible without studying here. Recently, I arrived back from London where I attended the International Petroleum Summit. Here, I was able to meet many future colleagues from every corner of the globe. They included scholars, attorneys, arbitrators, and negotiators; many of which who are the top of their field.
Before that I was able to fly to Paris for a European AIPN Chapter meeting on oil and gas financing where I was able to experience the beauty of Paris, learn, and make lifelong relationships. Lastly, while in Dublin I have had the opportunity to be part of an insight program with Deutsche Bank, one of the world's largest financial intuitions.
But it has not been all work and study though. Trinity has wonderful nightlife and people to go out with. MOST IMPORTANTLY, I was able to attend the Trinity Ball, often called Europe's largest private party! Also, I have had the opportunity to travel Ireland and meet many new people from all walks of life, all of which who were extremely friendly. Now that classes and assessments are completed I will spend the month traveling as much of Europe as I can by train. I am excited to meet so many new people and experience so many new cultures.
Any doubts that I had or that were proffered to me by others at LSU about studying abroad during law school were completely unfounded. Things that I "missed out on" can be done during my last year. Anything that cannot be, was a minuscule sacrifice for the wealth of things I gained here. If I could tell the students that follow me at LSU LAW one thing, I would say, "JUST GO! CHANGE YOUR LIFE FOREVER!"
Lastly, as jurists, we are all too familiar with having our heads buried in books so I will finish with a quote I read outside of the Notre Dame by St. Augustine of Hippo. It read: "The world is a book, and those who do not travel read only a page." With the sincerest heart, I thank you for helping me study abroad this semester. Go raibh míle maith agat." (Irish for: "May you have a thousand good things")
Aaron Emil Koenck
LSU LAW, 2019
Trinity College Dublin, Visiting Student 2018