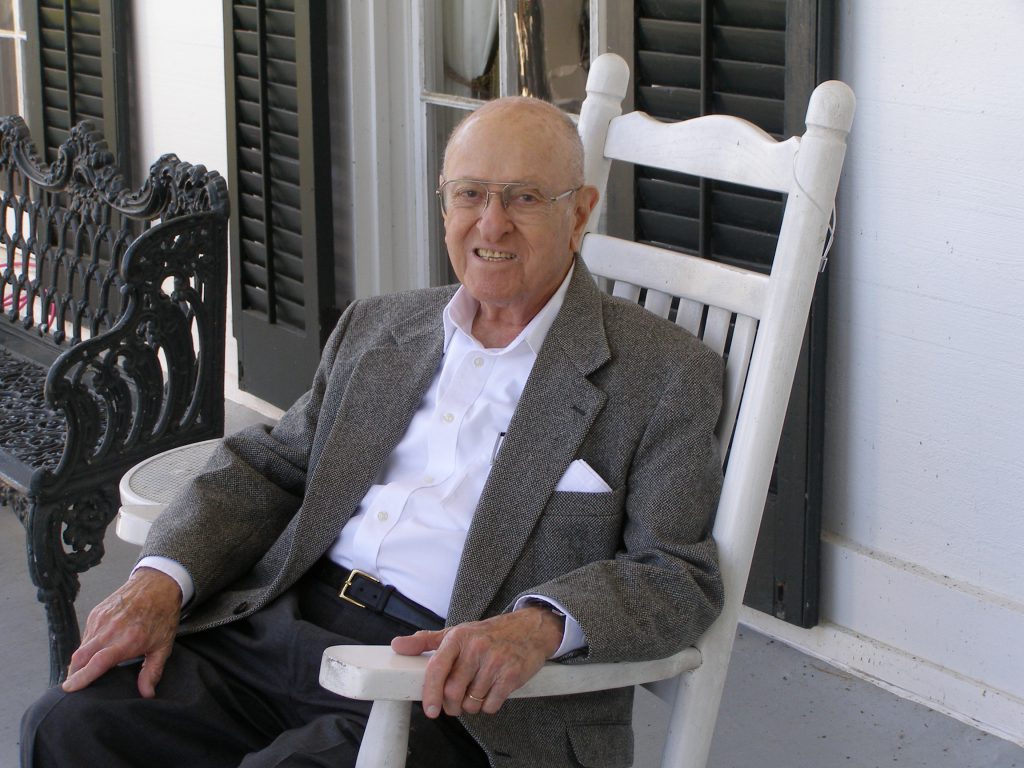 Professor Emeritus Robert Anthony Pascal passed away on January 19, 2018 at the age of 102. With a life devoted to the study and teaching of law, a span of nearly three-quarters of a century between his first and last scholarly publications, he has become a legend in his own lifetime.
Bob Pascal started his academic career at the time of Roscoe Pound, whom he witnessed inaugurating the LSU Law Building in 1938. He then was a law student at the Loyola Law School in New Orleans and served during the summer as a Research Assistant at Louisiana State University. A graduate from Jesuit High School in New Orleans, he received a liberal education at Loyola, where he studied the full regimen in Scholastic Philosophy–Logic, Epistemology, Ontology, Theodicy, Cosmology, Psychology, and Ethics. In law school, the study of the Louisiana civil law became a passion. He published his first article in 1938, in the first issue of the Louisiana Law Review, and his 'Recollections of a Life Studying and Teaching Law' in Robert Anthony Pascal: A Priest of Right Order (O. Moréteau ed. 2010) came out 72 years later.
He started working with the Louisiana State Law Institute during the first year of its creation in 1938, working on the Compiled Edition of the Louisiana Civil Codes. He later became a consultant on trust law revision, an area of jurisprudence where his thoughts are at the forefront. He also taught and produced significant work on conflict of laws, family law, matrimonial regimes, civil and Anglo-American legal science, and philosophy of law, a good sample of which can be read in the Priest of Right Order volume, available online.
In 1940, he was the first person ever to be awarded a Master's degree in Civil Law at LSU. He practiced law in New Orleans for one year, and in 1942, added an LL.M. from the University of Michigan Law School. During World War II, he was commissioned in the United States Coast Guard Reserve for anti-submarine warfare, but most of his service was as Coast Guard District Legal Officer for the 10th Naval District (the Caribbean). At the end of the war, he joined the LSU law faculty. In spring 1951, he taught trusts law at the University of Chicago. In 1951–1952 and in 1963–1964, he was a Fulbright lecturer and taught U.S. private law and comparative law at the University of Rome, in Italian. In 1955, he was made full professor at LSU and never left the Law School even after his retirement in 1980, keeping offices as a Professor Emeritus. Many remember his tournament with a professor from Tulane, Professor Pascal insisting that the ancestor of the Louisiana Civil Code (the Digest of 1808) was Spanish in substance and French in form—a "Spanish girl in French dress," as he later commented in his Tucker Lecture at LSU 'Of the Civil Code and Us.'
Professor Pascal marked generations of students and colleagues and will be remembered as a man of faith and uncompromising views. Whether or not one embraces his vision of the law as legal order, of mankind as a community of men under God, with the ontological obligation to respect and cooperate with one another, whether or not one endorses his strong preference for the civil law and its codification, he leaves an important legacy at LSU, in Louisiana, and in worldwide jurisprudence and civil law scholarship.
Bob Pascal was a family man. He will be remembered with his wife Doucette, who preceded him in death. The LSU Law Center expresses warm sympathy to his children Robert Anthony, Jr. (Qin Quian) and Alice (George) and grandchildren.
Visitation will be held at St. Aloysius Church in Baton Rouge beginning at 10:00 a.m. on Thursday, January 25, with a Funeral Mass beginning at 11:00 a.m.   Burial will follow at 2 p.m. in St. Louis Cemetery number 3 in New Orleans.
http://obits.theadvocate.com/obituaries/theadvocate/obituary.aspx?n=robert-anthony-pascal&pid=187931270