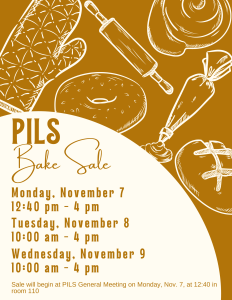 Due to popular demand and the success of our last bake sale, we will be holding ANOTHER bake sale next week. Just like our last bake sale, this one will begin following our November general meeting on Monday, Nov. 7, at 12:40 pm in Room 110. It will continue until 4 pm on Monday and into Tuesday and Wednesday from 10 am to 4 pm both days. See below how to sign up for the bake sale and prices & payment!
Prices & Payment: To pay for the baked cooks, either bringcashorVenmo @emilyfields00 & title your payment "PILS Bake Sale" please.
Cookies

Oatmeal Raisin Cookies $
Almond Joy Cookies $
Pumpkin Spice Cookies $
M&M Cookies $
Praline $
ChocoChip Cookie Chonks $
Peanut Butter Cookies $

Brownies

GF Affirmation Brownies $
Affirmation Brownies $
Snickers Brownies $
Caramel Brownies $

Breads & Muffins

Banana Bread $
Banana Bread with Candied Pecans $
Chocolate Chip Pumpkin Bread $
Banana Muffins $

Sweet Treats

Welcome Home Bars
White Chocolate Pumpkin Pie Balls
Oreo Balls
Muddy Buddies
Rice Krispies
How To Sign Up for the Bake Sale
To make this fundraiser a success, we will need the help of our members. If you contribute a baked good to the bake sale, you will receive one community service hour. (Remember, ten hours are required to attend the PILS End of Year Crawfish Boil. This is an easy way to get an additional hour!)
To make things easier on you with finals quickly approaching, we are giving you the option to bring your baked good on any day of the sale (Monday, Tuesday, or Wednesday). We would like most goods to be brought on Monday, so there will only be 5 slots for Tuesday and Wednesday. Sign up ASAP if you want to snag a Tuesday or Wednesday slot!
If you would like to sign up to bake for the bake sale, please read the instructions and enter your information into the sign up sheet: https://docs.google.com/spreadsheets/d/1PPW4V0hf3p_4w5FtXU8DFxA8i9D6TFG2eK6GUp5rBmw/edit?usp=sharing.
If you have any questions, contact Emily Fields (PILS Philanthropy Chair) via email at efield5@lsu.edu.