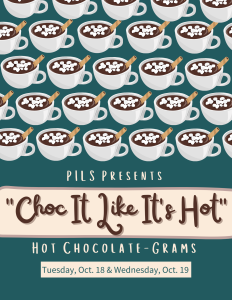 Temps are dropping, so we decided to kick off our PILS Hot Chocolate Gram fundraiser "Choc It Like It's Hot"! 🔥🍫
From 11:30 to 2:30 tomorrow and Wednesday, PILS will be selling ~homemade~ hot chocolate (no Swiss Miss imposters) at a table in the lobby. You can buy a cup for yourself for $3.75 and/or send a "hot chocolate gram" to a friend for $4.50. (Will accept cash or Venmo.) All proceeds will go to the Big Buddy Program!!
To send a gram, just come to the table and give us the recipient's name, which day (tomorrow or Wednesday) they will be on campus, and then we will email the recipient for pickup at the table. You will have the option to include a note with your gram and sign your name or have it sent anonymously.
***If you send a gram to someone, make sure they will be on campus between the hours of 11:30 and 2:30 either tomorrow or Wednesday. If the recipient does not pick up their hot chocolate before we close the table at 2:30 on the day you specified to have the gram sent, they will not get their hot chocolate (but your money will still be going to a good cause😉)***