Updated 1/22/2020
CAP/PJI Capital Criminal Defense 2020 Summer Internship
The Capital Appeals Project (CAP) is a non-profit law office based in New Orleans, Louisiana that provides capital appellate and post-conviction representation to indigent people on Louisiana's death row.  CAP is one of the leading death penalty appeals offices in the country and has represented clients in several recent cases before the Supreme Court of the United States, including Kennedy v. Louisiana, Snyder v. Louisiana, and Montejo v. Louisiana. CAP provides high-quality representation in the state and federal courts throughout Louisiana and acts as a resource to public defenders and criminal defense lawyers across the state. CAP attorneys have successfully represented clients in state district courts, the Louisiana Supreme Court, and the U.S. Supreme Court, which in turn has improved the quality and standards of representation for indigent capital defendants in Louisiana. We also represent a number of non-capital juvenile clients in proceedings implementing the recent Miller/Montgomery Supreme Court decisions which limit life without parole sentences for juvenile offenders.
CAP works closely with The Promise of Justice Initiative, a non-profit focusing on conditions of confinement work and death penalty abolition. This unique structure allows direct representation to inform systemic challenges – and vice versa – and provides the flexibility to identify and pursue change where it is most needed.
Internship Description and Requirements:
Each intern is assigned to a senior attorney for supervision and mentorship. Capital criminal defense interns work on individual cases in appeal, post-conviction or federal habeas proceedings, assisting attorneys, investigators and other staff. Depending on the caseload of their supervising attorney, interns may also have the opportunity to participate in some civil conditions of confinement cases. Work includes visiting clients on death row, reviewing trial records, legal research and writing including preparing motions and briefs, and assisting with investigation, reviewing and collecting records, and conducting factual analysis in cases. The work demands rigorous attention to detail and creative thinking and offers students a closely supervised opportunity to learn the intricacies of death penalty jurisprudence, as well as criminal, appellate, and federal habeas law.
The internship begins with a training program, and we provide a program of weekly brown bag lunches where interns have the opportunity to learn from and meet some of the top public interest lawyers and workers from other organizations around the city, as well as our own staff.
Funding:
As a non-profit, CAP's summer internships are generally unpaid. CAP encourages students to pursue outside funding for the summer, and will work closely with any school or grant funding organization where interns qualify for funding. However, CAP is an equal opportunity employer, and is committed to ensuring that students who are passionate about the work not be disqualified due to financial constraints. Where there are no available alternative funding sources, CAP may be able to provide a summer stipend.
Please apply with a cover letter, resume, a writing sample and three references to Erica Navalance and Carli Raben at CAPvolunteer@defendla.org. Applications are processed on a rolling basis.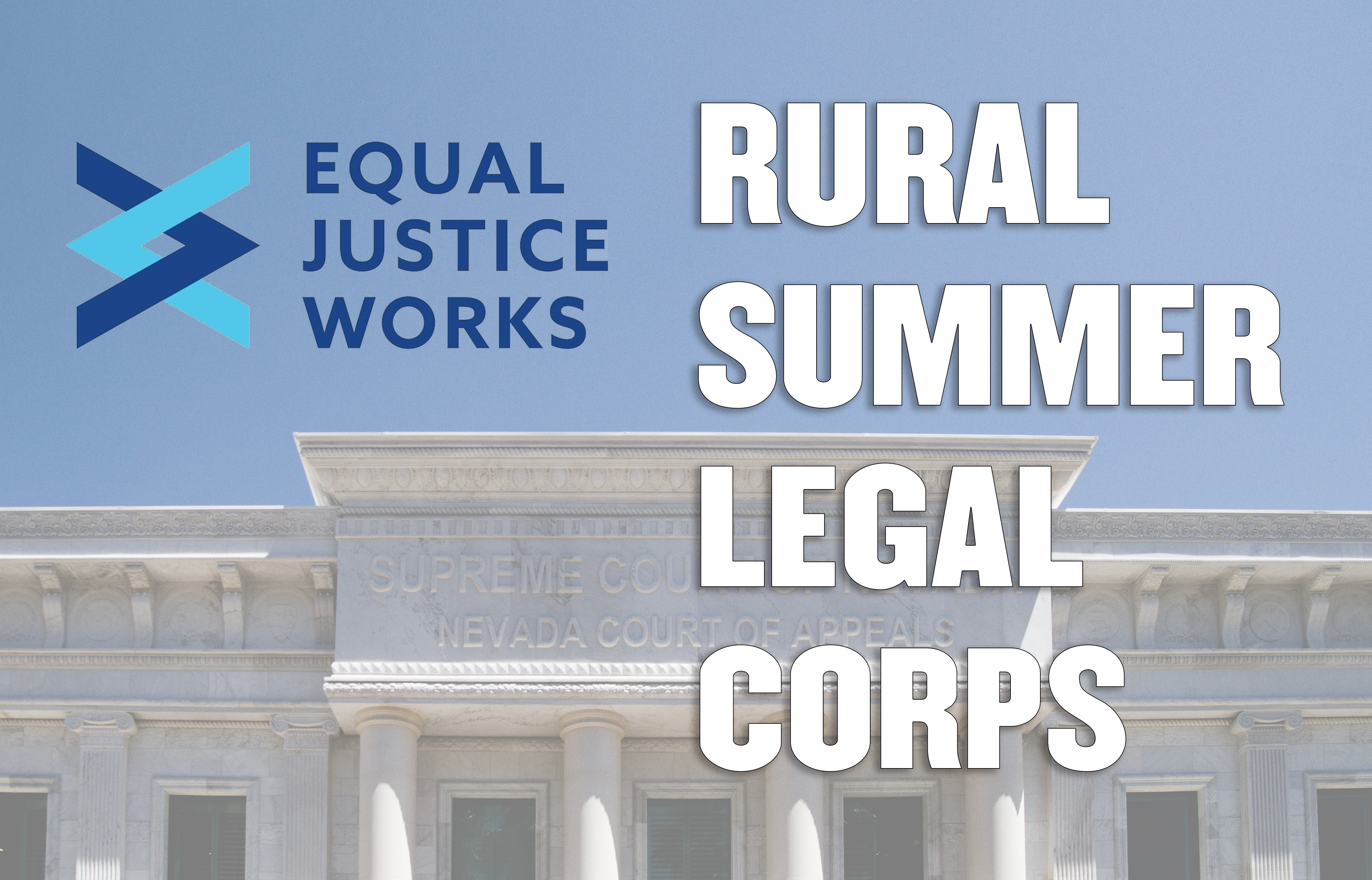 2020 Rural Summer Legal Corps
We are thrilled to invite interested law students to apply for the 2020 Rural Summer Legal Corps. In partnership with Legal Services Corporation (LSC), Equal Justice Works will support 35 dedicated law students in serving ruralcommunities this summer. Student Fellows will spend eight to ten weeks at LSC-funded civil legal aid organizations, while developing valuable skills and gaining hands-on experience in several areas of public interest law. Students earn $5,000 for working 300 hours during the summer of 2020.
Interested in becoming a Rural Summer Legal Corps Student Fellow? Here are some tips on how to get started:
Review the Host Organizations. View the legal aid organizations hosting Student Fellows this summer, and the corresponding project descriptions. You'll be asked to identify your top three host organization choices when you apply for the program.
Read "Law Student Frequently Asked Questions." Find out more about the program by reading through the FAQ's. If you have additional questions, you can visit our website or e-mail us at ruralcorps@equaljusticeworks.org.
Apply for the Program! Applications will be accepted until February 10, 2020. After the application closes, you will be contacted by the host organizations if selected for an interview. All Student Fellows will be selected by no later than March 25, 2020.
We look forward to receiving your application!
 https://2cl03t2b1kal1nj21k1h04f3-wpengine.netdna-ssl.com/wp-content/uploads/2019/12/Southeast-Louisiana-Legal-Services.pdf
Louisiana Coalition Against Domestic Violence
(Note: this opportunity is available via on campus interviewing.)
LCADV is seeking legal interns to assist in policy, research, and advocacy initiatives. The intern will, at a minimum, monitor legislative developments, conduct legal research, and create outreach materials on specific domestic violence issues. Furthermore, the intern may routinely partner with other organizations that are committed to ending violence. Below are some of the sample tasks that the intern may be asked to complete.
Sample tasks:
Research state statutes around the country on domestic violence
Research policies, regulations, case law, and best practices on domestic violence
Research empirical studies of issues on domestic violence
Assist in developing white papers (i.e., topic briefs) on specific domestic violence issues
Assist in developing newsletter articles.
Participate in statewide committees addressing public policies which impact domestic violence victims, their children, and offenders
Research and analyze the impact of domestic violence legislation at the state and federal level
We are open to a split summer or full summer. This internship is an unpaid internship with a 501(c)(3) organization. You can request a PILS stipend and/or course credit through the Externship Program.
Southeast Louisiana Legal Services
(Note: this opportunity is available via on campus interviewing.)
Locations: Baton Rouge, Hammond, Houma, Covington, New Orleans, Harvey
We have 3 different types of opportunities:
– (1) Family – As a volunteer in this unit you are able to support in a wide capacity of ways such as interviewing clients, court filings, legal research, drafting legal pleadings, memoranda and petitions. Depending on education and experience level students may have the opportunity to handle divorce cases through completion.
– (2) General Litigation (Successions, Employment Law, Public Benefits, Consumer Law, Bankruptcies, Title Clearing, Power of Attorney, Special Education, landlord/tenant disputes and more.)
– (3) Homeless One Stop Center Legal Clinic: project helps end homeless ness for marginalized people living with disabilities by increasing income, help improve access to healthcare by securing Social Security, Medicaid, and connection to medical providers, and increase access to justice. Many of the clients are Veterans or individuals with disabilities who are unable to work.
Law Students would be able to practice their interviewing skills, help draft briefs that will be used in hearings, will do legal research and writing, and learn how to manage a caseload. The student will work closely with an SLLS attorney, medical providers, and Social Workers at the One Stop Homeless Services Center, in Baton Rouge, to help these individuals stabilize their health and living environment.
| | |
| --- | --- |
| | We are looking for students that are interested in helping vulnerable individuals overcome legal barriers. Include location preference in cover letter. You can secure course credit or apply for a PILS stipend. |
Public Interest Field Placement Opportunities (through Professor Brooks):
– Federal Defender's Offices for the Eastern and Middle Districts of Louisiana
– East Baton Rouge Parish Office of the Public Defender
– Orleans Public Defenders' Office
– Louisiana Parole Project
– Southeast Louisiana Legal Services (SLLS)
– Acadiana Legal Services
– Sexual Trauma Awareness and Response (STAR)
– Louisiana District Attorneys' Association
– Baton Rouge Area Chamber of Commerce
– Louisiana Municipal Association
To sign up for summer field placements, click here.
American Civil Liberties Union: Summer 2020 Legal Internships
Center for Liberty – New York, New York
Criminal Law Reform Project – New York, New York
Disability Rights Program – San Francisco, California
Human Rights Program – New York, New York
LGBT & HIV Project – New York, New York
National Prison Project – New York, New York
National Security Project – New York, New York
Program on Freedom of Religion and Belief – Washington DC
Racial Justice Program – New York, New York
Reproductive Freedom Project – New York, New York
Voting Rights Project – Washington, DC
Visit https://www.aclu.org/careers/internships/ for information about the work that each individual project does!