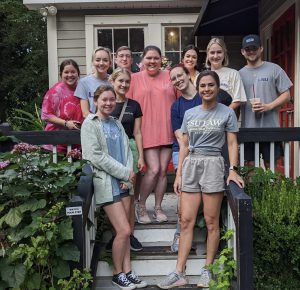 For every person who participated in the Fall Day of Service, please record 4 hours for the Fall Day of Service. Hours will go towards PILS' End of the Year Crawfish Banquet. Record your hours here.
Thank you so much to the many hands that made the Fall Day of Service so memorable! It means the world to all of us that you would all take time out of your busy schedules to come together and invest time into our community that needs all the love it can get. 
Your hard work has not gone unnoticed. Check out LSU Law's recent article, "LSU Law students contribute nearly 300 hours of volunteer work in Baton Rouge Community at Fall Day of Service," which includes a gallery of photos taken on the Day of Service!
All photos can be accessed through PILS' PhotoCircle. If you have any photos from the Fall Day of Service that you would like to share, feel free to drop them in PILS' PhotoCircle.