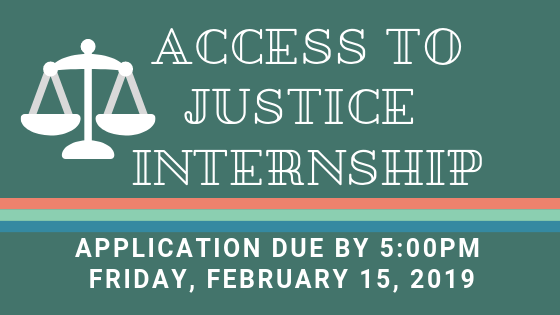 The Louisiana State Bar Association and four prominent law firms have joined efforts to offer select rising 2L law students an opportunity to learn first-hand about Louisiana's Civil Justice Community. The ATJ Developing Leadership Intern Program is a new initiative and unique opportunity in which participants will gain the insight and skills necessary to become the next generation of access to justice leaders.
Each week the program will focus on the various civil legal needs of low-income people, the ways in which organizations within the justice community address those needs, and how these services are increasing the quality of life for those served. Four students, one from each of Louisiana's four law schools, with a demonstrated commitment to access to justice will be selected to participate in the program.
See below for the informational  flyer and to download and fill out the applications! Applications are DUE by 5PM Friday, February 15th. 
ATJ Internship Flyer – 11.28.18 – LSU
Baker Donelson – LSU Application 2019