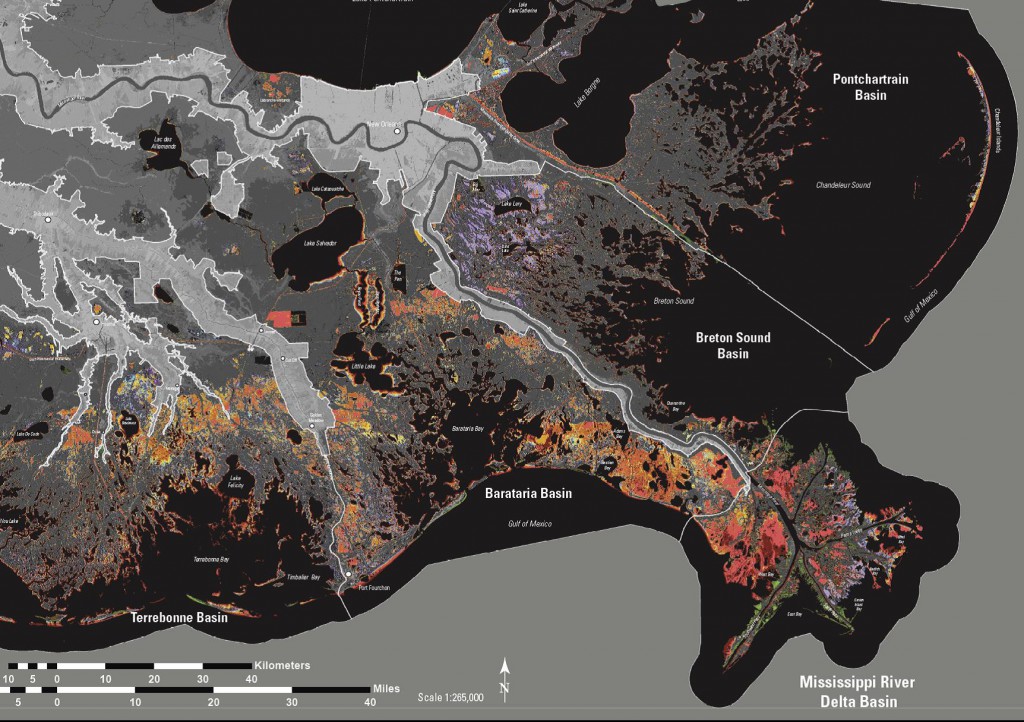 Subsidence – General
D. R. Jones S. E. Ingebritsen D.L. Galloway, Land Subsidence in the United States (2000).
Devin Galloway, David R Jones & Steven E Ingebritsen, Land subsidence in the United States (1999).
Subsidence – Louisiana – Maps
Couvillion, B.R., Barras, J.A., Steyer, G.D., Sleavin, William, Fischer, Michelle, Beck, Holly, Trahan, Nadine, Griffin, Brad, and Heckman, David, 2011, Land area change in coastal Louisiana from 1932 to 2010: U.S. Geological Survey Scientific Investigations Map 3164, scale 1:265,000, 12 p. pamphlet.
Land area change in coastal Louisiana from 1932 to 2010 – HIgh Rez Map
Subsidence – Louisiana – Presentations
Joshua D. Kent, Louisiana's Height Modernization Efforts. National Height Modernization Partner's Meeting, Mobile, Alabama (2014)
Ronald Blom, Gulf Coast Subsidence: Integration of Geodesy, Geophysical Modeling, and Interferometric Synthetic Aperture Radar Observations (2013)
Louisiana Coastal Geology: Shaping the Future of the Louisiana Coast – Prof. Roy Dokka, Fall 2010. The audio is very low until 27:10. A Silverlight compatible browser is needed to see the full presentation.
Subsidence – Louisiana
Lei Zou et al., Evaluating Land Subsidence Rates and Their Implications for Land Loss in the Lower Mississippi River Basin, 8 Water 10 (2015)
Roy K. Dokka, The Anatomy of a Silent Disaster: Ongoing Subsidence and Inundation of the Northern Margin of the Gulf of Mexico Basin An Interview with Dr. Roy Dokka. Houston Geological Society Bulletin, Feb. 2005.
Roy K. Dokka, Subsidence of South Louisiana: Measurement, Causes, and Human Implications. Luncheon Presentation, New Orleans Geological Society, Oct. 9th, 2006.
Roy K. Dokka, Louisiana's Coast is on life-support. Can the Coast be Saved? An August 26th, 2010 Presentation to the LSU Law School(PowerPoint)
Roy K. Dokka, The role of deep processes in late 20th century subsidence of New Orleans and coastal areas of southern Louisiana and Mississippi. 116 Journal of Geophysical Research B06403, 1 (2011).
Kurt D. Shinkle and Roy K. Dokka, Rates Of Vertical Displacement at Benchmarks in the Lower Mississippi Valley and the Northern Gulf Coast. NOAA TECHNICAL REPORT NOS/NGS 50. July, 2004.
Boesch, D. F., D. Levin, D. Nummedal, and K. Bowles. 1983. Subsidence in coastal Louisiana: causes, rates, and effects on wetlands. U.S. Fish and Wildlife Service, Division of Biological Services, Washington, DC. FWS/OBS-83/26. 30 pp.
The oil and gas hypothesis – these Morton pieces postulate that oil and gas production caused significant subsidence in Louisiana. This is not well substantiated and goes against most of the science on subsidence due to oil and gas production because the wells in Louisiana are so deep.
Robert A Morton, An overview of coastal land loss with emphasis on the southeastern United States (2003).
Robert A Morton, Noreen A Buster & M Dennis Krohn, Subsurface controls on historical subsidence rates and associated wetland loss in southcentral Louisiana, Transactions-Gulf Coast Association of Geological Societies 767–778 (2002).