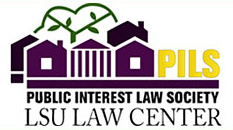 Ever wanted to be a part of the public interest initiative serving in southern LA? Curious about how to use your developing legal skills to help others? Want to meet judges, attorneys, and others who share your passion for serving the common good?
Well then we want you! Students who are interested in joining PILS or would like to be included in our weekly pro bono and community service emails should click here. Joining PILS is completely free, and by filling out our membership form you will automatically be notified about our upcoming meetings, events, and other initiatives this year.
Welcome to the club!